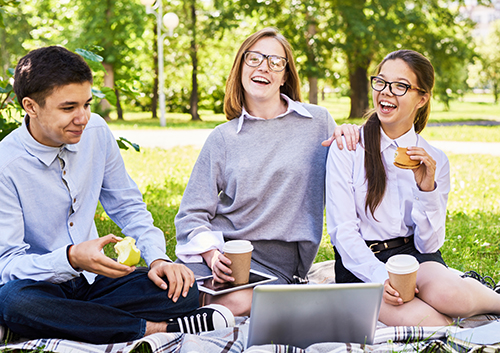 Now that you're a teenager, you have a lot more responsibility and independence. Choosing high school classes and electives. Getting a driver's license. Landing your first job. And those new responsibilities extend to your dental health as well!
If you've just gotten braces, you might feel a bit overwhelmed. Learning how to brush and floss effectively, attaching rubber bands several times a day, keeping track of your hours if you're wearing clear aligners—it can seem like a lot. But you can do it! With time and practice, caring for your braces will become just another part of your daily routine. Dr. Daniel George and Dr. Cadie George and our team are here to make sure you have all the information and tools you need to succeed. The most important thing to remember is that the better you follow our instructions, the quicker and more effective your orthodontic treatment will be.
If you've successfully completed your orthodontic treatment, dealing with your retainer should be a piece of cake! We will give you clear instructions on how long each day you should wear your retainer. Sticking to this schedule is really important--if you don't wear the appliance as directed, you can undo some of the progress you've worked so hard to make. And when you're not wearing your retainer, be sure it has a safe life outside your mouth. Keep it in a protective case, and keep it someplace where the puppy/the washing machine/the cafeteria trash bin won't find it.
If you have a mouthguard for sports or athletic activities, wear it! Whether you have an over-the-counter device or a custom fabricated guard, it won't do you any good hiding in your locker. A mouthguard cuts down on tooth and facial injuries caused by falls, physical contact, or other accidents that might happen in your active life. And if you wear braces, ask about a mouthguard designed to fit around them. These custom devices protect your braces and your mouth.
Finally, remember that sticking with your dental routine—two minutes of brushing morning and night and thorough flossing each day—will keep your gums and teeth healthy throughout your teen years. And, if you have any questions about your dental health in general, or a specific dental concern, give our Holland, MI office a call! We're here to work with you for a lifetime of beautiful smiles.