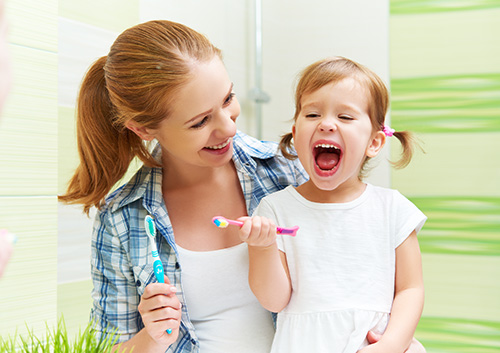 You found the perfect toothbrush! The bristles are soft, to avoid irritating your delicate gum tissue. The angle of the bristles is perfect for removing plaque. The handle is durable and comfortable when you spend at least two minutes brushing in the morning and two at night. Why, you love this toothbrush and you'll never let it go… for the next three or four months.
The life of a toothbrush is naturally a short one. Dr. Daniel George and Dr. Cadie George and our team recommend replacement every three to four months because the bristles become frayed and worn with daily use. They cannot clean as effectively when the bristles begin to break down, and, depending on your brushing style, may wear out even more rapidly. (Children will probably need to replace toothbrushes at least every three months.) But even in the short time you have your toothbrush, there are ways to keep it ready for healthy brushing.
Don't share. While sharing is normally a virtue, sharing toothbrushes can lead to an increased risk of infections, especially for those with compromised immune systems or existing infectious diseases. Similarly, keep different brushes separate when drying to avoid cross-contamination.
Rinse thoroughly after brushing. Make sure to remove any toothpaste or debris left after you brush.
Store the brush upright. Air-drying is the preferred way to dry your brush, as covering the brush or keeping it in a closed container can promote the growth of bacteria more easily.
There are several products on the market that promise to sanitize your brush. The verdict is still out on its success, but if you or someone in your home has a compromised immune system, call our Holland, MI office to see if it might be worth your while to check them out.
Even though your toothbrush won't be with you long, make its stay as effective and hygienic as possible. And if you find a brush you love—stock up!