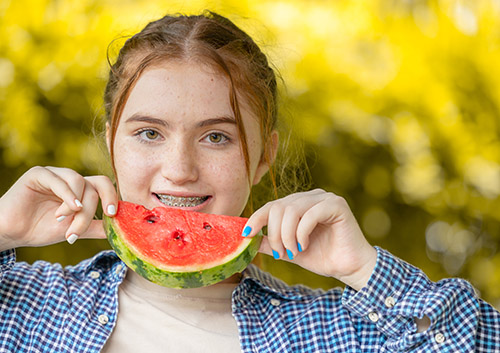 It's that time of year again—Halloween! Carving pumpkins. Creating costumes. And, of course, collecting candy.
But some of the candies in that collection aren't much of a treat for your teeth. When you're deciding on the perfect pieces to choose from the candy cauldron, here are some tricks to identify the ones that can be more frightful than delightful for your tooth enamel and braces:
Any sticky or chewy candy—caramels, taffy, licorice, gummy anythings—is candy that also sticks to your teeth. And it really sticks in between your teeth, where it's harder to brush away.
The problem? Bacteria in plaque love sugar, and sticky candies provide them with hours of sugary feasting. Bacteria use this sugar to make acids, and acids cause weak spots in tooth enamel. These weak spots will get bigger over time as the bacteria keep on attacking your enamel, and that's how you can end up with a cavity. Less sugar which spends less time on your teeth = fewer cavities!
And there's another good reason to pass up chewy treats if you wear braces. Candy can get stuck under your brackets and wires, or be sticky enough to pull a bracket right off a tooth.
Sour candies get that intense, lip-puckering taste because they're so acidic. What's wrong with acids? Just like the acids made by bacteria, acids in food attack our tooth enamel, too.
Sour candies are hard on your teeth all by themselves. When you eat a candy that's both sour (acidic) and gummy (sticky), all coated in sugar, that's triple trouble!
Some kids like hard candies like lollipops and fruity drops because they last a long time. But that's the problem. All that time a hard candy rolls around in your mouth is time spent bathing your teeth with sugar.
Thinking of shortening your sugar exposure by chewing hard candies? Also a bad idea! Crunching into a piece of hard candy can chip or crack a tooth and even damage fillings.
Crunchy treats can be hard on braces, too. Peanut brittle, nutty candy bars, candy apples, popcorn balls, or any hard or crunchy candy can damage your brackets and wires when you bite down.
Luckily, there are healthier trick-or-treating choices if you know what to look for.
Soft Candies and Chocolates
A chocolate bar, a peanut butter cup, mint patties, and other soft candies won't stick around on your teeth the same way chewy or hard candies do. No sour acids, either. And because dark chocolate has less sugar than lighter chocolates, it's an even healthier choice.
Bonus: They're easy to bite and chew when you wear braces!
This treat is not only sugarless, but chewing it helps us make more saliva. Saliva washes away sugary food particles and helps neutralize the acids in the mouth. If you wear braces, check with Dr. Daniel George and Dr. Cadie George to see if sugar-free gum is safe for your brackets and wires.
No need to skip the trick-or-treating this year. Occasional sugary or acidic treats can be balanced out with daily brushing and flossing, a healthy diet, and regular visits to your dentist for exams and cleanings. When you do enjoy a treat that's sugary or acidic, there are tricks to help you keep your smile healthy and cavity-free.
Eat a treat or two with your meals instead of snacking through the day. You won't be exposing your teeth to sugar for hours at a time, which means bacteria and acids won't be haunting your enamel all day long.
Drink water. If you eat your candy with an acidic soda, you're getting sugar + sugar + acids. That's a scary recipe when it comes to healthy teeth! Water helps wash away sugar and acids—and, if you have fluoridated water in your community, you'll be getting a bit of fluoride to strengthen your enamel, too.
Halloween is no time to ghost your toothbrush and floss. Be extra careful to brush and clean between your teeth after eating sweets. Wearing braces? Don't forget to clean around your brackets and wires. Using aligners? Be sure to brush well after you eat something sugary before you replace them.
If you're wearing braces this Halloween season, it's important to avoid all the sticky, hard, and crunchy treats to keep your braces and your treatment schedule intact.
Any questions? Talk to Dr. Daniel George and Dr. Cadie George at our Holland, MI office to learn the best ways to keep your smile looking boo-tiful all year long!