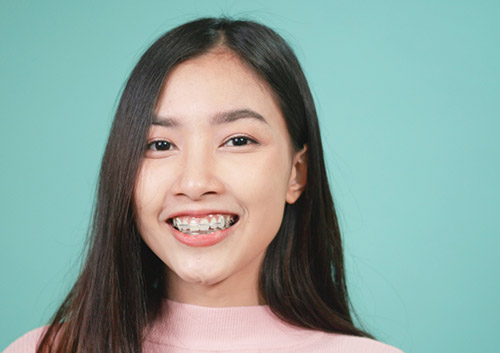 You're biting into something delicious, and, Ouch! You bite into something you didn't mean to—the inside of your tender cheek.
Painful moments like this happen every now and again. But if you find that more frequent cheek biting means that you're extra-cautious when eating or speaking, if you wake up with sore cheeks in the morning, or if you catch yourself gnawing on your cheeks during the day, it's time to see Dr. Daniel George and Dr. Cadie George.
Causes of Cheek Biting
Many of us experience the occasional cheek chomp when we're eating or talking. No fun! Besides the pain, a bite can cause broken skin, inflammation, a canker sore, or a cyst. Luckily, the discomfort from these accidental bites generally resolves after a few days.
Sometimes, though, biting becomes a more frequent annoyance. Regular bites can be caused by several conditions. One of the most common?
If you notice that you seem to be biting your cheek a lot when eating or speaking, it could be an orthodontic problem. When your teeth or jaws don't align properly, if your mouth is small in proportion to your teeth, or if your teeth have shifted over time, your cheeks can feel the consequences! Dr. Daniel George and Dr. Cadie George can help you discover if a misaligned bite is the source of your biting problems.
But it's not just orthodontic problems which can cause painful cheek bites. Other causes can include:
Bruxism is a medical term for tooth grinding. If you clench or grind your teeth as you sleep, it's hard on your teeth and on your jaws. And for some people, that nightly gnashing causes cheek biting as well.
Most of us don't have the room to welcome four new—and large—teeth. As the wisdom teeth come in, they can cause bites, especially if they erupt leaning outward toward your cheeks. They can also push your other teeth out of place.
Treatment Options
Why visit our Holland, MI orthodontic office? A one-time bite can be extremely uncomfortable, and might lead to inflammation or a sore spot inside your mouth. Usually, these reactions fade in a short while.
But what about continuous biting? Regular biting injuries can lead to bigger problems. Tissue can get thicker or erode. Scar tissue can build up inside the mouth. Ulcers and other sores can become larger and more painful.
If you've been biting your cheeks more often, your orthodontist can diagnose the cause and offer you treatment options depending on the reason for this frequent biting:
Orthodontic treatment can improve tooth and bite alignment—and can eliminate those painful cheek bites if misalignment is what's causing them. Today's orthodontics offers more options than ever before, for both adults and kids.
Traditional braces are more effective—and more subtle—than ever, with brackets which are smaller or come in clear and ceramic styles.
Clear aligners are a convenient, almost invisible way to treat misalignment with a series of trays which gradually improve alignment with each new set.
Lingual braces are attached to the back of the teeth, so there are no visible brackets and wires.
Functional appliances can improve and correct bite issues which braces or aligners alone can't treat as effectively.
Whatever the reason for painful cheek biting, you deserve to eat and speak and enjoy your day without constant "Ouch!" moments affecting your comfort and health. If these moments are happening all too often, visit our Holland, MI office for the answers to your biting problems.