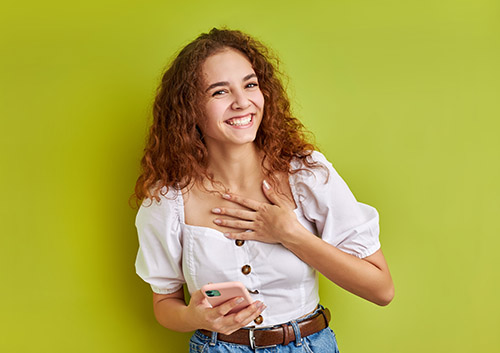 There are many great reasons to see an orthodontist. For a healthier bite. For straighter teeth. For a more confident smile. So why are you hesitating? If the visibility of traditional braces is what's holding you back, ask Dr. Daniel George and Dr. Cadie George about lingual braces.
With regular braces, brackets are bonded to the front of each tooth with a special adhesive. Ligatures around each bracket or bracket clips grip an archwire, which does the work of moving the teeth. The gentle pressure from the wire guides the teeth into alignment in gradual stages. Every adjustment moves the teeth to their perfect positions. These braces are quite effective—and they are usually quite visible.
Lingual braces, on the other hand, are virtually invisible. Lingual means "toward the tongue," and this placement is the difference between lingual braces and more traditional types of orthodontic braces.
Lingual braces are custom designed to be applied to the inside of your teeth. Specially designed brackets are attached to the backs of the teeth. Individually crafted archwires are used to guide your teeth to their best alignment.
Lingual braces can be the solution to many orthodontic concerns:
If you need or want invisible braces for personal or professional reasons, lingual braces are a great option. Because they are behind your teeth, they are even less noticeable than clear aligners—and you don't need to keep track of your hours wearing them.
Lingual braces keep the front of your teeth braces-free for playing a brass or reed instrument, or for participating in sports. (Just remember, a mouthguard is always a good idea for athletic activities, and especially when you wear braces.)
Both brackets and wires can be customized to fit your teeth perfectly, and new lingual brackets and wires are more comfortable than ever.
You might be a good candidate for lingual braces if:
You have a large enough tooth surface to place a bracket. Adults with small teeth—or children—might not be have enough room on the back of each tooth to hold a bracket.
You don't have a major malocclusion (bite problem) which would make lingual braces impractical. A deep overbite, for example, could cause the wires and brackets behind the upper teeth to come loose or detach as they come in contact with lower teeth.
You are dedicated to keeping up with your oral hygiene. Because wires and brackets are behind the teeth, it can be harder to keep them free from food particles and plaque.
Finally, even if lingual braces aren't the perfect match for your orthodontic needs, there are other options that can work for you. Smaller metal brackets, ceramic brackets that blend in with your enamel, and clear aligners mean today's orthodontic work is more subtle and discreet than ever before.
For a healthier bite, for straighter teeth, for a more confident smile—don't hesitate. Contact our Holland, MI office to discuss the many great options you have available to give you the smile you've always wanted—front and center.