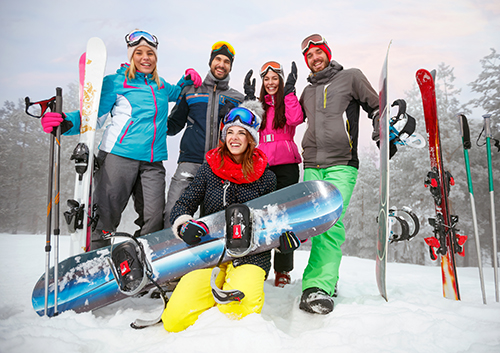 The weather out there might be frightful for most of us, but not for you! You've been waiting all year for a fresh coat of powder and all the outdoor sporting activities winter brings. But before you grab those ski poles, strap into that snowboard, lace up those skates, or dust off that sled, be sure to remember one more essential piece of gear—your mouthguard!
Mouthguards aren't just for contact sports. While all that lovely new snow looks like powder, it doesn't feel like it when you land hard. If there's a chance of a fall or an impact in any sport, there's a chance you can suffer dental injuries.
Falls or collisions can result in chipped, broken, or dislodged teeth. Your mouthguard will help protect your smile from these accidents, and also works to protect you from biting your tongue and mouth in case of impact. It can even reduce the chance of jaw injuries.
Luckily, finding a mouthguard that works for you is even easier than finding the perfect board or the best wax for your skis. You have several options to choose from:
Ready-made appliances. These are available in drugstores and sporting goods stores, but come in pre-formed sizes, so they might not provide the best fit.
The "boil-and-bite" model. This mouthguard form is placed in hot water. You then bite down while it is pliable to shape it to your mouth and teeth.
Custom mouthguards. These guards can be fabricated just for you. They are molded to fit your individual mouth and teeth, so provide a better fit and better protection. They are also usually more durable and more comfortable. If you wear braces, a custom mouthguard can be your best option for preventing an injury to your mouth and your braces. Talk to Dr. Daniel George and Dr. Cadie George if you are interested in a guard fitted specifically for you.
When you visit our Holland, MI office, let's discuss all the best ways to keep your teeth and mouth protected before you set out for winter sports. And then when you're ready to go? Let it snow!