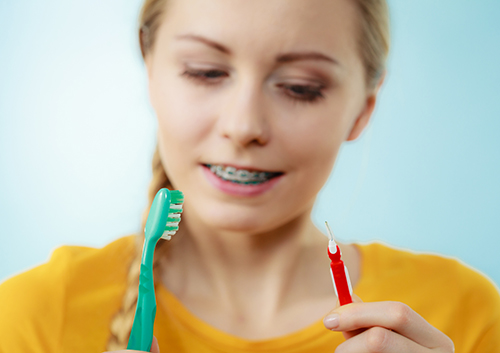 Orthodontic technology changes and improves all the time. Today's braces are lighter, smaller, and more efficient than those of past years. Wires are thinner and more flexible. Even brackets come in different styles and colors. These developments are all great news for braces wearers. Unfortunately, there is one advancement we haven't been able to offer: self-cleaning braces.
Brackets and wires can both trap food particles and make brushing them away more difficult. This can lead to increased plaque, cavities, and staining around the area of your braces. But with the proper supplies and habits, keeping your braces clean will become routine in no time.
Braces-healthy Supplies
Your old toothbrush might work well enough with some brushing adjustments. We can show you how to angle your brush so it works most effectively, and how to make sure the bristles clean around your braces. Or, if you like, there are actually manual toothbrushes designed just for braces. These have V-shaped bristles to make cleaning around the brackets easier. Some people find an electric toothbrush works best. Whichever type of brush you use, be sure you use it often!
Again, if regular floss works for you, stay with your normal products. If you are finding it difficult to get into the narrow spaces around your braces, there are floss threaders to get the floss into tight spaces, and flosses specially designed to work with braces.
A big name for a tiny brush! These little cone-shaped brushes can clean around your brackets and under your wires—a great way to reach parts of your teeth your regular brush can't.
Braces-healthy Habits
Brush after every meal and sugary drink
Because food particles tend to stick to your braces, and the bacteria in plaque feed on these particles, your enamel is under attack without thorough cleaning after meals. Take a toothbrush and supplies with you to school or work so that you can always brush after eating. If there is absolutely no way to brush, be sure to rinse immediately with water.
Pay attention to each tooth, the area around your braces, and your gum line. And don't forget the tops and inside of your teeth! A common suggestion for braces wearers is to devote at least ten seconds to each tooth. We might also recommend a special mouthwash to reduce bacteria and help keep your mouth and breath fresh.
Put together a cleaning kit for when you are out of the house. A brush, some floss, and toothpaste in a handy container will let you brush whenever you need to, wherever you may be. Leave it in your backpack or bag, and you're ready for anything!
Foods that stick to teeth will stick to braces, so avoid caramels, licorice, chewy candies, and any other sticky treats. Why make your life more difficult?
While braces can make brushing and flossing more complicated, you can still keep your teeth clean, bright, and cavity-free. And remember, regular dental exams and professional cleanings are more important than ever during this time. At your next visit to our Holland, MI office, talk to Dr. Daniel George and Dr. Cadie George about the best products and practices for the cleanest possible teeth and braces. We have plenty of ideas to help make sure you'll have the healthy, beautiful smile you've worked so hard for when those braces come off!