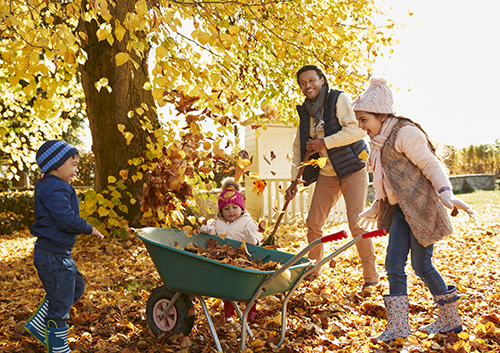 If this is your child's first holiday season with braces, here are some tips on how to help children get the most enjoyment from these celebrations without compromising their braces or leaving them feeling left out of the festivities.
Halloween
When you think dental health, "Halloween" is not usually the first thing that comes to mind. Halloween can be tricky, but with some planning and intervention, you can make sure your child doesn't miss out on the treats that make the holiday a favorite.
Braces present other challenges besides dealing with the scary amount of sugar in every trick-or-treat bag. Certain treats can be a challenge to clean from braces, and can even cause broken brackets and wires. How to avoid these frightful results?
Go through your child's treat bag when you get home after neighborhood trick-or-treating. Anything which can damage braces, such as regular gum, candy with nuts or caramel, or hard or chewy candies should be discarded. Perhaps you and your child can choose a selection of soft candy such as plain chocolate and peanut butter cups to trade for those tricky treats. Your child's favorite soft fruits, cupcakes, and cookies could also be safe substitutes.
Party time? Candy apples, bowls of candy corn, and popcorn balls are favorite treats at Halloween parties, but very bad for braces. Help your child recognize what should be avoided before attending, and suggest safe options like soft cupcakes.
Finally, even safe treats will leave more sugar than normal in your child's mouth and therefore more potential for plaque build-up. Brush and floss more often, if needed, and rinse regularly with water.
Talk candy guidelines over in advance with your child. If you'd like, Dr. Daniel George and Dr. Cadie George can recommend safe alternatives. With your help, Halloween won't be a fearsome experience for you or your trick-or-treater.
Thanksgiving
Now, this is a holiday to be thankful for! Almost all of your traditional favorites are perfect for family members with braces.
Appetizers: Offer soft food options such as silky cheeses and deviled eggs instead of crunchy vegetables, chips, and nuts.
Dinner: Turkey is a required dish on many tables, and no need to miss out! Just make sure pieces are bite-size and off the bone. Creamy mashed potatoes and gravy and jellied cranberry sauce are also braces-friendly traditions. Any cooked vegetable should be fine, but do cut the corn from the cob first. Dressing is a great side dish if your child avoids any crunchy tops and edges, as are soft, nut-free rolls and muffins.
Dessert: Pumpkin pie, cheesecake, and apple pie with ice cream are all safe (and delicious) choices. Leave the pecan pie, caramel sauce, and anything nutty or chewy off your child's menu. And remember to brush and floss carefully after the feast!
If you are concerned that following the usual food guidelines might be a little more difficult during this time of year, talk to us. Dr. Daniel George and Dr. Cadie George and our team are happy to suggest ways to make your child's first holidays with braces memorable for all the right reasons. The last thing you'll want is an emergency visit to our Holland, MI office!