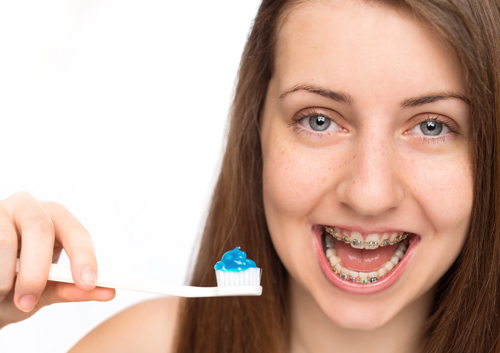 A clean mouth is a happy mouth. And when Dr. Daniel George and Dr. Cadie George and our staff see you have a clean mouth, we are happy too. Of course, all of this should make you happy because you're the one preventing sneaky little food bits from getting trapped under the wires of your braces.
Still, you need to be thorough with your brushing. When you have braces, you're playing a game of hide-and-go-seek with everything you eat. Here are five tips to keep your mouth (and us) happy.
How is brushing with braces like geometry? It's all about the angles. Brush the tops of your teeth and braces with your brush angled down. Brush the bottom of your teeth with the brush angled up. Pointy brushes, aka interproximal brushes, are good for reaching the tiny spots around braces.
Brush after every meal. If those sneaky little food bits hide in your mouth for very long, they'll turn into plaque. And plaque is a sign of a very unhappy mouth.
Brush one tooth at a time for at least ten seconds, and pay close attention to the spots where your braces touch your teeth.
Fluoride is your new BFF. Make sure your toothpaste and mouthwash contain this cavity-fighting ingredient.
Braces are no excuse not to floss. In fact, saying you can't floss because you have braces is like saying the dog ate your homework. Dr. Daniel George and Dr. Cadie George and our staff, like your geometry teacher, aren't going to buy it. Be sure to floss after every meal.